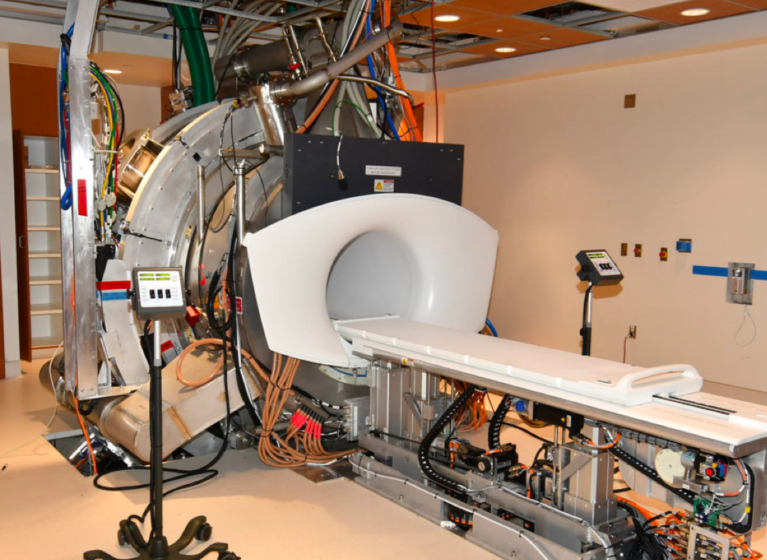 The world of healthcare technology is rapidly growing and requires a driven team to champion our innovation efforts in such a complex landscape. I'm proud that at UVA Health we're always raising the bar and striving to provide the best care imaginable to our patients. We do this by delivering incredible research-based treatment options and making investments in the best technology available.
Not only do our patients have access to life-changing technology, but we surround our technology with unbelievably bright and dedicated team members who reveal its true potential. Here are two recent examples that we should all be incredibly proud to be a part of:
MRI-Linac System
Because of the determination of our team, we've just finished installing an unbelievable machine, called an MRI-Linac, with amazing benefits for our patients receiving complex cancer treatment. The 20-foot-long MRI-Linac machine combines MRI technology that can see soft tissues in real-time with a linear accelerator that provides high-dose, targeted radiation. What makes this so special? This machine's arrival means we can treat the most challenging cancers in the body with precise targeting as the cancerous areas move around with patients' breathing and digestive functions.
To quote the powerful title from a recent Connect deep-dive on this new technology — despite major demolition, a pandemic, and supply chain delays, the new MRI-guided radiation therapy system is ready for launch. Put another way, our team deserves all the credit for bringing in new, life-changing technology for our patients amid never-before-seen challenges. Read more about their heroic efforts and the promise of this technology on Connect.
Our 1,000th Stem Cell Transplant
Late last month, our teams at the UVA Health Stem Cell Transplant Program performed their 1,000th transplant — a milestone made possible by our world-class team and their use of complex technologies to deliver compassionate care…and they're not stopping there! As I write this, our teams are making plans to expand our pediatric programs, grow outpatient treatments, and improve outcomes for patients by decreasing the toxicity of transplants.
In the growing field of cell therapy, there's much to learn and look forward to, and I'm confident that our team will keep UVA Health at the forefront of this life-changing care.
Our team is (you are!) ensuring that UVA Health is a home for innovation. One of the overarching goals of the new UVA Health Strategic Plan is "Expanding Our Excellence and Enabling Discoveries for Better Health". This goal is fueled by our investment in distinct areas and programs (like Stem Cell Transplant and MRI-Linac) that will help expand our influence across the state, nation, and around the world. Everything we do, each new machine or long day at the bedside, is done with the goal of improving outcomes for our patients— near and far.
I'm honored to call UVA Health home, and even more proud to work alongside such an awe-inspiring team.
Take care and be well,
Wendy