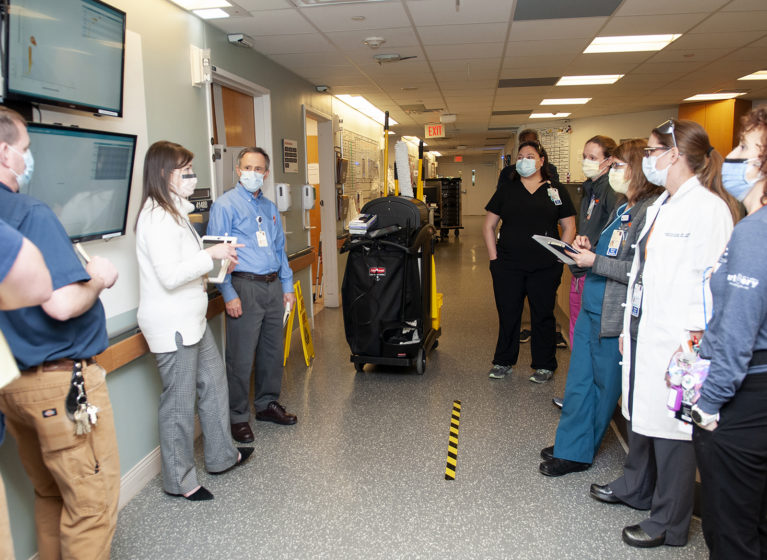 Leadership comes in many forms. You don't have to be a manager or have a particular job title to be a problem solver or a difference-maker at work. That's certainly true at UVA Medical Center. Over the past year, I've witnessed countless team members lead from where they are to help us take better care of our patients and one another. And what do everyday leaders like these have in common? They ask good questions.
Take, for example, the Clinical Nurse Specialist team of Kim Elgin, Amy Johnston, Dea Mahanes and Kathleen Rea. Since last fall, this team has been on a mission to reduce or eliminate waste around the Medical Center. In one of its recent efforts, this team heard of frontline nurse frustrations with glitchy medical scanners from Liz Winn, an RN in 4 Central Cardiology, and Kim Staples, an RN in 4 Central Transplant. The team connected with leaders, and work is currently underway to replace the scanners.
Or take registered nurses Jane Muir, Jeanell Webb-Jones and Nancy Farish. UVA Health offers many resources to combat burnout and stress, but they can be hard to access for care providers who feel like they can't leave the bedside. And so, these nurses created a "resiliency toolkit" that can be housed inside work areas and used in as little as two minutes. This toolkit is currently being piloted in select areas of the Medical Center. The group is now gathering feedback and plans to continue making improvements to the toolkit before rolling it out to as many areas as possible.
Both of these groups of leaders were able to empower fellow team members to raise awareness of difficulties and engage them in helping find a solution by asking the question: "What could have made your job easier today?" I bring up these examples and this question because I think it demonstrates how asking simple questions and following where the answer leads can help solve our most pressing problems as an organization, whether at our clinics, bedside or in the conference room. I want to ensure each of you feels empowered to lead. Your insight and expertise are essential to developing the processes and practices that help create the best possible future for our patients and our teams.
So, in that spirit, what questions do you have that you want me to address here? Submit them via the blog's "Be Heard" suggestion box. I look forward to seeing what you share.
Take care and be well!
Wendy