About Wendy
Wendy Horton, PharmD, MBA | CEO, UVA Medical Center
I have the extraordinary privilege to work with some of the most talented care providers and operational teams in the country. And each day I have the opportunity to hear directly from our team members about the amazing work happening here.
Together, through our collective voices, we will transform patient care delivery and operations to align with a new vision for UVA Health. A vision of a patient-centric organization and national leader in delivering the most exceptional care and developing high-performing, highly valued teams. Through this blog, I will share important news and information about our work and achievements. Please stay connected with me here and share your insights and feedback. Thank you!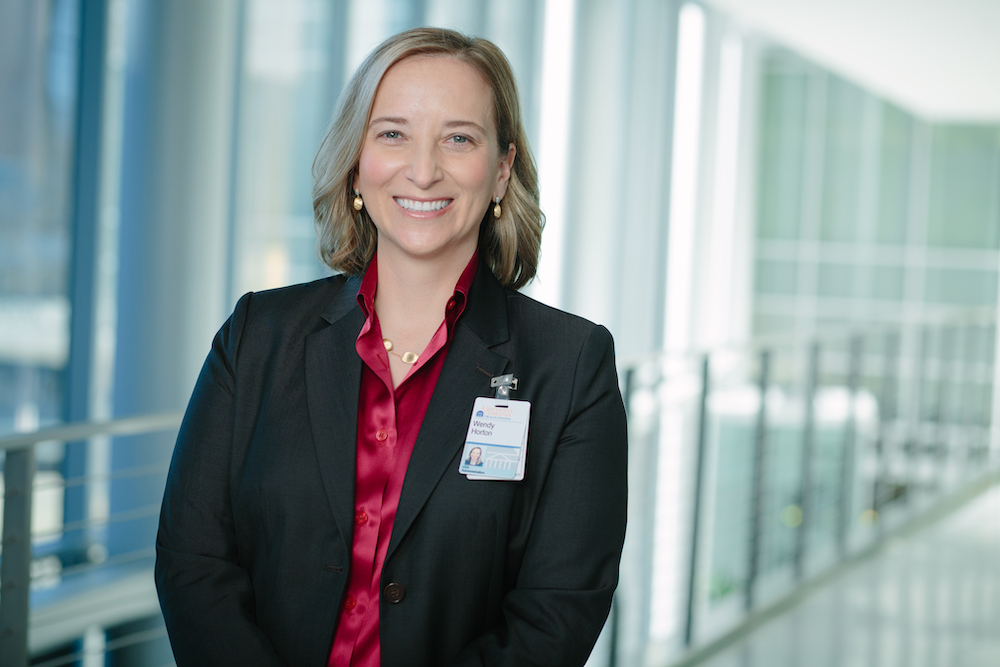 Bio
As Chief Executive Officer of the UVA Medical Center, Wendy Horton collaborates with leaders, physicians, faculty, and team members to deliver high-quality care and achieve the best possible outcomes for all patients. She partners with this diverse set of stakeholders to keep the Medical Center on the leading edge of patient-centered, cost-effective care while advocating for nearly 9,000 healthcare employees across various clinics and disciplines.
Early in her time as CEO, Wendy successfully led a "Bridge Plan" to stabilize UVA Health's operations in preparation for a new system-wide strategic plan while navigating the first wave of the COVID-19 pandemic. She successfully led the Medical Center through The Joint Commission's rigorous triennial accreditation survey in 2021. In addition, Wendy recruited a diverse leadership team to the Medical Center, including a new Chief Nursing Officer, Chief Administrative Officer, and Chief Operations Officer.
Recently, Wendy served as the spokeswoman for UVA Health's public education campaign on COVID-19 safety and supporting health care workers across the Commonwealth. At this critical time for health care staffing, Wendy's leadership led to several innovations in care models, such as UVA Health's "Earn While You Learn" program that provides growth-oriented career opportunities to those interested in working in health care.
A fierce advocate for her team, Wendy brought every Medical Center team member's salary up to the market competitive rate through a $56 million investment in compensation programs in Fiscal Year 2022, with more planned for the years ahead. Additionally, she leads an effort to invest in all team members and provide comprehensive total rewards packages that are market-driven, performance-based, and equitable for all employees.
Wendy originally joined UVA Health in April 2020 as Chief Operating Officer of the UVA Medical Center, where she optimized clinical operations and drove innovation to respond to the high-stakes challenges within the health system. She became Medical Center CEO in November 2020.
Before joining UVA, Wendy served as the Chief Administrative Officer of The Ohio State University Wexner Medical Center. There she developed a united physician compensation plan and transformed the institution's caliber of faculty through a robust growth plan. She also served as the VP of Operations at the University of Wisconsin Hospital and Clinics, where she helped commission a new $235 million hospital and hired more than 600 employees in less than one year.
Wendy holds an MBA in Marketing and Finance from the University of Wisconsin–Madison, a Doctor of Pharmacy degree from the University of Utah, and a Bachelor of Science in Pharmacy degree from Oregon State University. She is a Lean Six Sigma Black Belt and a Fellow with the American College of Healthcare Executives (FACHE), where she takes an active mentorship role with newer fellows in the program. Wendy holds several volunteer leadership positions in Central Virginia, including serving on the Board of Directors for the Charlottesville Chamber of Commerce.