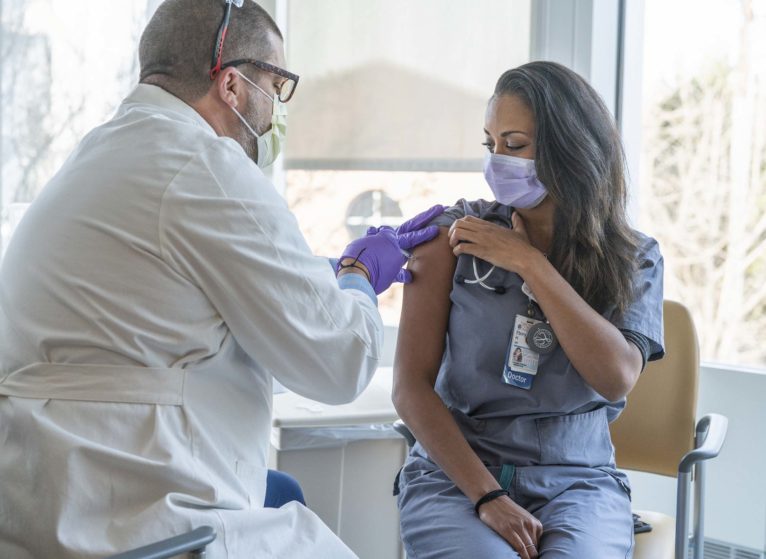 The important step to require all UVA Health team members to be vaccinated is not one we took lightly. We considered several major public health and professional organizations' recommendations, including the American Medical Association, the American Hospital Association, the American Nurses Association, and the Virginia Hospital and Healthcare Association. We also consulted with some of the world's foremost infectious disease experts and epidemiologists we have in-house, who have guided our strong response to the pandemic. Earlier this summer, I wrote a LinkedIn article about the facts UVA Health was considering regarding a vaccine mandate. We've learned a lot since I wrote this in July.
The Delta variant has become the dominant strain of COVID-19 and is now the primary driver of recent high transmission rates because it spreads more easily than earlier strains of the virus. As a result, the national rate of hospitalizations for unvaccinated COVID-19 patients continues to grow, filling Emergency Departments, occupying inpatient beds, deferring elective surgeries, and putting more strain on an already exceptionally weary workforce. The FDA gave full approval of the Pfizer vaccine, with others expected in the near future. States, including Virginia, have announced vaccine requirements for state workers, and courts have upheld these requirements. (Read this piece by Margaret Foster Riley, UVA Law professor and public health sciences professor in our School of Medicine, about vaccine mandates and the law.) Finally, more recently, many health systems around Virginia have similarly required vaccines for their team members—including Augusta Health, Bon Secours, Centra, Inova, Mary Washington, Valley Health, VCU, Sentara, and more. 
This week, I wanted to re-share that LinkedIn piece to give you some insight into how I thought about this important step for UVA Health. What you see below was originally published on July 2, 2021.
###
The question of whether an employer can mandate workforce coronavirus vaccination is reverberating throughout all industries, but it is an especially critical issue in the world of health care. At UVA Health, it is our primary responsibility to safeguard the health and well-being of our entire UVA family, which includes patients, faculty, team members, administrators, and the entire Charlottesville community. A key part of protecting the public health involves making sure that we have a high level of vaccinated personnel. A vaccinated staff creates the safest possible environment for the clinical care of patients, and it ensures that a vulnerable population is protected from the threat of the deadly virus. To that end, UVA Health will plan to take a stepwise approach to achieving a fully vaccinated staff.
Some hospitals have already begun mandating vaccinations for all employees. Houston Methodist Hospital and Health System and the University of Pennsylvania Health System (UPHS) are among the first health systems to do so. UPHS is one of the nation's largest health systems, and they are asking their workforce to set an example to end the pandemic. Other health institutions are following suit. RWJBarnabas Health in West Orange, NJ, is now requiring supervisors and above to be vaccinated for COVID-19, with plans to extend the mandate to all employees. As we head into the second half of the year, we expect more hospitals and health systems nationwide to require their workforce to get the COVID-19 vaccine.
At the same time, many healthcare systems are still undecided about requiring staff to be vaccinated. The issue is a complex one, as it involves many sensitive and overlapping issues including public health, ethics, law, labor relations, as well as an individual's right to autonomy. The question that must be answered is this: How do you balance the need for personal freedom against the necessity to provide a safe hospital environment, if not everyone who works at the health system is willing to get vaccinated?
Regarding a vaccine mandate for UVA Health, here are the facts we are considering:
Is it Safe?
The science behind vaccines is vigorous and sound, and the science community overwhelmingly believes the current US vaccines to be safe. More than a hundred million Americans have received COVID-19 vaccines under the most intense safety monitoring in U.S. history. The CDC states that the COVID-19 vaccination will help keep you from getting COVID-19, and all U.S. vaccines have been shown to be safe and effective at preventing the coronavirus. Moreover, the vaccine helps prevent patients who do get the virus from becoming seriously ill. Finally and importantly, getting vaccinated not only protects you, but it may also protect people around you, particularly people at increased risk for severe illness.
Is it Legal?
This is unclear, but there is some historical precedent for having a public mandate for vaccines. As early as 1905, the Supreme Court ruled that the Cambridge, Mass., board of health had the authority to require that the city's population be vaccinated against smallpox, as the disease was sparking outbreaks. Much more recently, Johns Hopkins School of Public Health has said that states have the legal and constitutional authority to require that residents be vaccinated. What's more, workplaces like hospitals, health care and long-term care facilities already require their staff be vaccinated against the flu each year. One thorny legal question remains, however. COVID-19 vaccines are currently approved under the FDA's emergency use authorization, they do not have full FDA approval yet.
Organizations that provide public health guidance like the CDC and the Occupational Safety and Health Administration (OSHA) have not commented on the question of requiring vaccinations. However, the Equal Employment Opportunity Commission (EEOC) said that employers may mandate vaccinations with some limitations, as mandating coronavirus vaccines would not conflict with federal disability law or civil rights statutes on discrimination. Furthermore, the EEOC said an employer could exclude an employee from a workplace if vaccine refusal posed too great a threat, but the worker must be offered the option of telework or a leave, and employers must allow exemptions for medical and religious reasons.
Is it Ethical?
This depends on who you ask. The World Health Organization (WHO) weighed in on the ethics of mandatory vaccines by saying that "they should be considered only if it is necessary for, and proportionate to, the achievement of an important public health goal identified by a legitimate public health authority. If such a public health goal (e.g., herd immunity, protecting the most vulnerable) can be achieved with less coercive COVID-19 or intrusive policy interventions (e.g., public education), a mandate would not be ethically justified."
In another opinion, Professor Lawrence O. Gostin, a professor at Georgetown University Law Center with expertise in health law recently told the Washington Post: "Vaccination mandates are ethical. Everyone has a right to make decisions about their own health and welfare, but they don't have a right to expose other people to potentially dangerous or even lethal diseases."
A final consideration that cannot be ignored is that unvaccinated populations risk enabling new virus mutations that cannot be contained by our current vaccinations. William Schaffner, an infectious disease expert at Vanderbilt University Medical Center stated that: "Every time this virus finds a new person, it multiplies. Every time it multiplies, it creates mutations….and those mutations can create a variant that is so different that our current vaccine protection might not work or might not work as well."
Throughout the health care world, we have all faced a year of unprecedented and relentless challenges to keep our communities safe and healthy. We have changed policies and amended procedures in rapid succession to limit exposure, treat the sick and provide comfort to hospital staff, patients and families as we fought to contain the virus. Now we have come to a point where the situation is becoming more manageable. We can look forward to a time when life can return to what we used to consider normal, when we have the freedom to go out into the world with fewer restrictions and a lot less fear. At the same time, we still have an obligation to do everything in our power to keep ourselves and others safe. We know that the COVID-19 vaccine is safe, mandating it is ethical, and although the legal question might be still up in the air, getting the vaccination as soon as possible is the right thing to do. It is the right choice to protect ourselves, our families, and our communities from future harm.
###