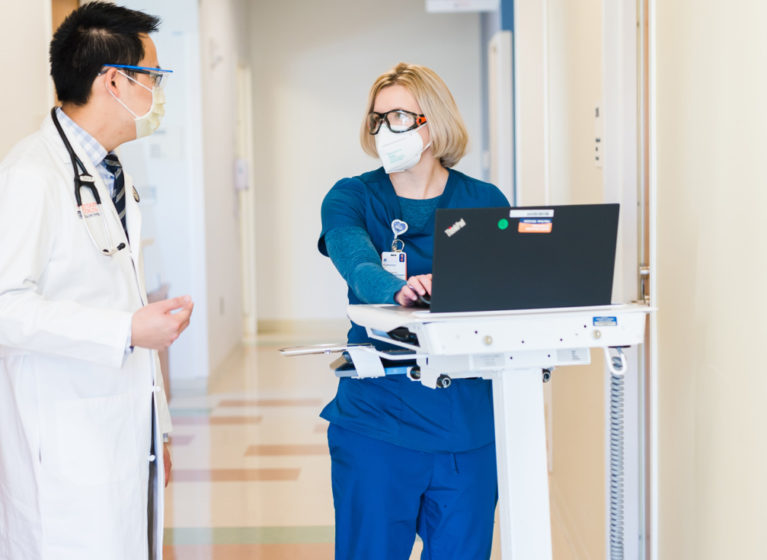 At UVA Medical Center, we care for the sickest patients, many of whom are often most sensitive to developing complications because they are so severely ill. That's why delivering the highest-quality and safest care to our patients is such a critical part of our mission — and our teams have collectively made outstanding efforts to improve our patient care quality over the past year.
Take, for example, those patients we care for in a critical care setting who experience immobility. These patients are at risk of developing localized injury to the skin and underlying tissue during their stay. Thanks to their dedicated efforts, our care teams have greatly reduced the number of hospital-acquired pressure injuries (HAPI), cutting them by nearly half comparing the first quarter of last fiscal year to this one — and that trend has continued downward.
Our teams' work in preventing pressure injuries is just one example. Elsewhere, I see tremendous collaboration around preventing falls, which were reduced by 40 percent last fiscal year, with only one fall with injury in April. (Read more about this effort, the incredible team behind it, and how you can help on Connect.) I also see stellar work to significantly reduce medication errors with patients transitioning to skilled nursing facilities. Dr. Amber Inofuentes and the Medical Subspecialties Team recently won the 2021 Charles L. Brown Award for Patient Care Quality for its concentrated improvement initiative around this topic.
And finally, more globally, we just finished our Joint Commission follow-up survey, concluding with all condition-level findings cleared and no new findings in this survey. The outstanding teamwork that went into this successful outcome truly indicates who we are and what we value at UVA Medical Center. There is such strength in our efforts when we act collectively — and that results in better, quality care for our patients.
Take care and be well!
Wendy
PS—To hear more Medical Center updates like these, including more on our COVID-19 team member vaccination requirement and compensation adjustments, watch my remarks from last week's UVA Health Town Hall. And don't forget to join me tomorrow, Nov. 10, for another Be Heard: Ask Me Anything Q&A Forum with a special HR focus!