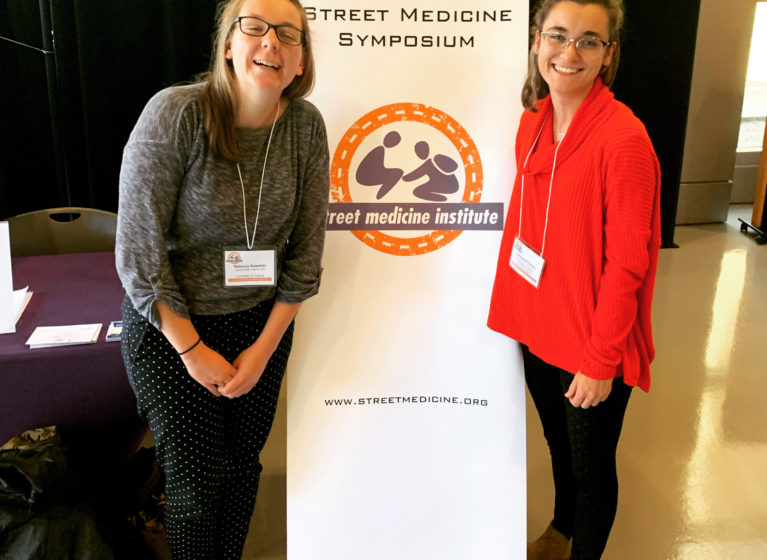 In addition to UVA Health's core clinical, research and educational missions, it is essential that we work collaboratively to improve community health and well-being within the communities we serve. One of the ways we do this is by addressing social determinants of health to decrease health disparities amongst those at risk or currently under-served. To illustrate just one small example of what I mean by this, let me introduce you to an amazing effort to assist UVA inpatients experiencing homelessness, which was launched this summer and is already leading to positive patient outcomes.
I recently heard about the Inpatient Homeless Consult Service and caught up with Jacqueline Carson, a fourth-year MD/MPH student who created and manages it, to learn more. Jacqueline says she got the idea when she encountered a patient during her medicine clerkship who was experiencing homelessness. From prior volunteer experience in the community, she knew about several resources that her attending physicians and other colleagues in her unit did not. Ultimately, Jacqueline helped the patient — who had end-stage renal disease and required dialysis — apply for Medicaid to pay for her care, get a hotel to recuperate, and arrange for transportation to and from that hotel for further dialysis treatment.
After this experience, Jacqueline devised a plan to connect Medical Center physicians and nurses who care for patients experiencing homeless to the resources they need to best help them arrange for a smooth transition of care upon discharge. Under the guidance of Dr. Ross Buerlin, Assistant Professor of Medicine, and Dr. Matthew Allen, a third-year primary care resident, Jacqueline launched the Inpatient Homeless Consult Service last June as a pilot program with the 3rd floor Medicine and Family Medicine Teams. It has now expanded throughout the Medical Center.
Team members who identify an admitted patient experiencing homelessness are asked to page 1078 between 8am-5pm Monday through Friday, at any point during the patient's admission — though earlier, the better. On callback, team members are asked to briefly run down the patient's reason for admission and their anticipated discharge needs. Then, within 24 hours, one of the 30 trained medical students from the consult team will see the patient and do a thorough assessment of the patient's social determinants of health and barriers to follow-up care. After, the student will drop a consult note into Epic — ultimately reviewed and signed by Dr. Allen — with an assessment and plan, then coordinate with both the patient care team to arrange follow-up needs and connect the patient with available resources. (To learn more about many of the resources in Charlottesville and Albemarle County that the team utilizes, check out this "street sheet" created by Med School students Rebecca Kowalski and Ashwin Mahesh.)
When Jacqueline and I recently spoke, the Inpatient Homeless Consult Service had seen 58 individuals, some multiple times, for a total of 78 consults. Jacqueline, who graduates in the spring and hopes to enter family medicine, is currently working to institutionalize the consult service so that it remains in operation at the Medical Center after her departure.
Thank you, Jacqueline! Your focus on community health advocacy is an inspiring example for UVA Health to follow.
Take care and be well!
Wendy
PS— Know of an inspiring UVA Health team member who embodies Dr. Martin Luther King Jr.'s values and teachings in cultural competence, healthcare disparities, or fostering an environment of inclusiveness? Nominate them for the 2022 Dr. Martin Luther King Jr. UVA Health Award! The deadline is Friday, Dec. 10 at 4pm. Read more and download a nomination form on Connect.