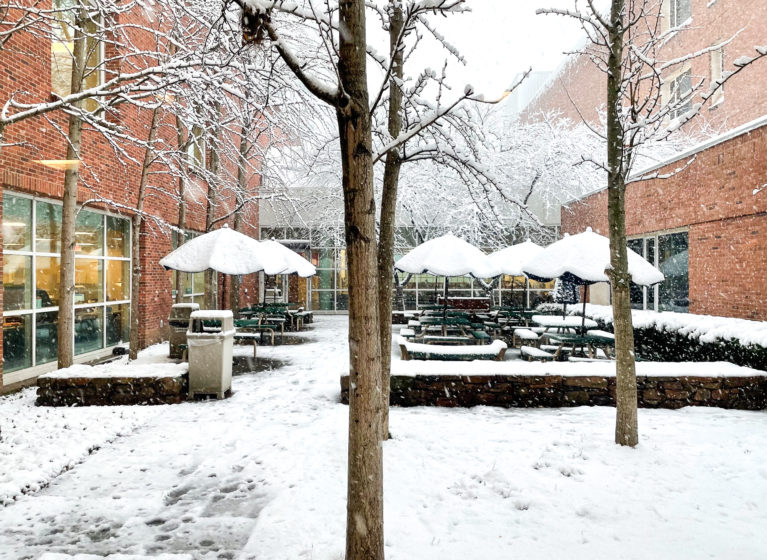 I know the ever-shifting landscape of the pandemic and its impact on all of us, both personally and professionally, has been difficult. Amid this, I'm proud of the way that, on the most challenging of days, we come together as teams and reaffirm our ongoing commitment to safe patient care through our actions, wherever we serve at UVA Health. No matter the test — from the rapid progression of the omicron variant to our first major snowstorm of the year — keeping the patient at the center of what we do starts with you.
Today, especially amid the backdrop of wintery weather, I'm reminded that it truly takes a village to keep UVA Health operating smoothly and efficiently. Here's a snapshot of statistics from just one of our amazing teams, Hospitality and Support Services (HASS), showing what it takes to keep things running smoothly for all at UVA Health:
Total HASS team members: 1,360
Amount of total square footage they cover every day: 7 million
Number of electronic ID badge scanners throughout the entire hospital: 2,357
Badges printed per year to be used with those scanners: 15,000
Number of 4 oz. cups of apple juice served to patients annually: 157,000
How many apples it takes to produce that juice: 235,500
Portion of Environmental Services (EVS) team members from other countries: ½
Number of nations represented by those team members: 28
Amount of Regulated Medical Waste (RMW) processed and sterilized each month: 188,255 lbs
UVA Health's rank in the state's generation of RMW: 1
Overall tube length of the Pneumatic Tube (P-Tube) system: 7 miles
Number of patient experience surveys sent in 2021: 450,000
Written comments generated by those surveys: 140,000
Gallons of water used between the University and UVA Health in one day: 1 million
Length of pipes maintained daily to move and use that water: 247 miles
Number of work orders completed each year: 70,000
Individual buildings that where those work orders are completed: 107
University Transit Service boardings from commuter parking lots daily: 3,300
Approximate individual pieces of equipment serviced by all HASS departments: 14,800
Average pounds of bacon cooked, plated, and sold in a single day: 75 lbs
How many more pounds of chicken tenders are cooked daily than bacon: 150 lbs
Vision and Voice is all about connecting with each other and sharing your amazing work. Excellent patient care takes all of us. So, I encourage you to give our HASS team members special thanks. They're greeting guests, repairing machinery, working security, mopping hallways, and everything in between to help provide the foundation we need to be truly great.
Take care and be well!
Wendy