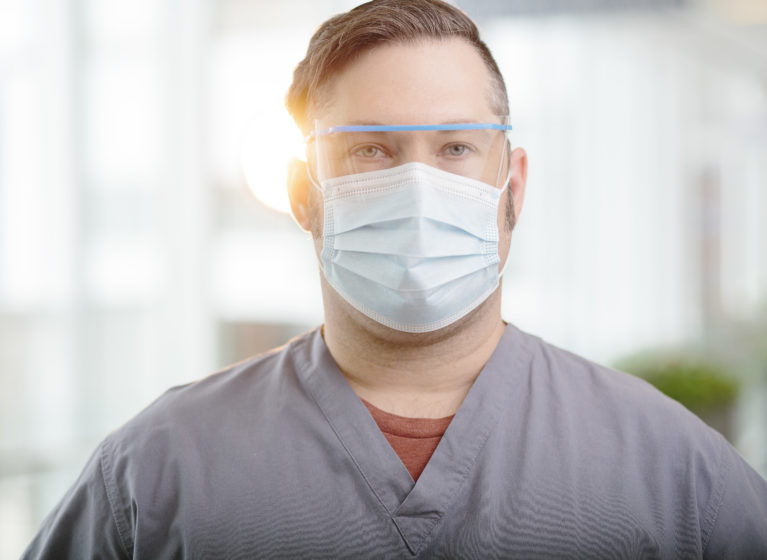 Nurses Week kicks off every May 6, and immediately after that we celebrate UVA Health Week (May 8-14 this year). The upcoming weeks are going to be a whirlwind of celebration and recognition. I wanted to spend some time reflecting on the value of our team members, the reason we set these two weeks aside.
The pandemic has made the larger community realize what we have known for a long time: nurses have unbreakable strength. Every day, I hear many profound stories about how nurses are positively impacting patients and their families through impossible circumstances.
Kelly Terreri, RN, Mother & Baby, for example, helped a mom-to-be feel safe and supported, even though the patient was struggling to vocalize her needs. Kelly left a lasting impression on the mom, who is now home with her healthy baby boy.
"Kelly was my nurse numerous times during my hospitalization and always made me feel safe and heard," the patient said in a letter to recognize Kelly. "She was extremely empathetic and went above and beyond to make me feel supported. She was incredibly knowledgeable and was always happy to take extra time to explain to me what was happening and also help me anticipate things that would happen next.
"Towards the end of my antepartum stay, I was feeling increasingly overwhelmed by the emotional and physical burden of waiting for delivery. Kelly recognized how I was struggling even when I couldn't find the words to express how I was feeling. Because she had taken so much time to get to know me over the previous weeks, she could tell how different I was from 'myself' despite how objectively stable I may have looked on paper. She helped me advocate to my team for my needs, and I was taken for delivery that same evening."
I also recently got to spend time with Mariah Rogers, Nurse Manager for the Staffing Resource Office (SRO) who is leading by example and putting teamwork into action. Just last week, a patient came from the Nerancy Neuroscience Intensive Care Unit to Neuroradiology for an urgent angiogram. The unit was short staffed, so Mariah stepped in to support the team without hesitation.
"Mariah came to Neuroradiology, in scrubs, cap, and mask to assess the situation and to assist," Mariah's colleague shared. "Her availability and quick intervention helped significantly with patient care, especially since Neuroradiology was down a staff member. … I am writing this to you because it is not often that we have someone that exhibits the attributes that Mariah possesses. … Her management style encourages people to want to work with and for her."
As we move into UVA Health Week, we expand our recognition to include all the work that goes on across the organization that results in these stories (and countless others). Each team member has a valuable role and is a crucial piece of the puzzle that helps our organization provide the best patient care. Each amazing patient-care moment happened because of the full care team and the supporting work of the non-clinical teams.
I am incredibly proud to be part of UVA Health, and it's all because of the work and dedication of each of you. It takes everyone, and I am so glad I get to be on this journey with you.
To celebrate, check out the events planned for Nurses Week and UVA Health Week, and I hope to see you there!
Take care and be well,
Wendy