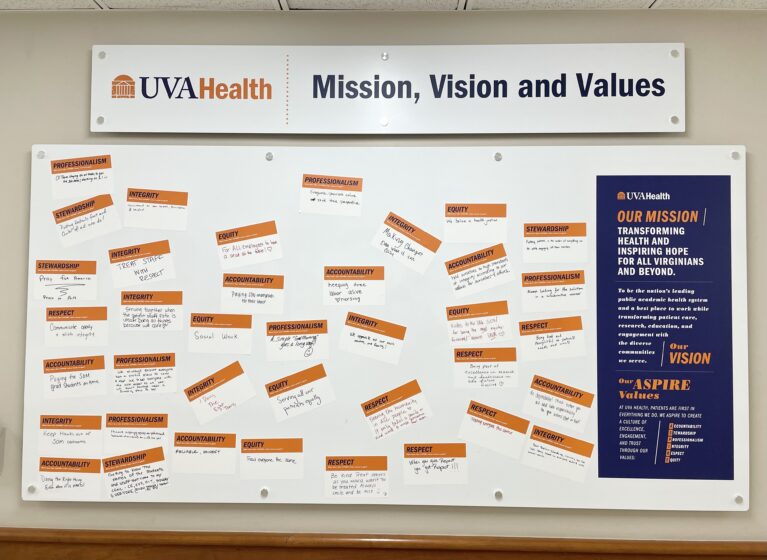 At UVA Health, our strategic plan codifies our core values and establishes a unifying mission to transform health and inspire hope for all Virginians and beyond.
Our ASPIRE values – accountability, stewardship, professionalism, integrity, respect and equity – create a culture of excellence, engagement and trust through our values, our approach to our work and the behaviors we expect from each other. I am inspired to see all of you living these values every day.
On a daily basis, I witness you holding yourselves and each other accountable for putting patients at the center of everything we do; being professional; showing integrity by giving our patients a voice in decision-making; treating all your interactions with the utmost respect; and embracing a culture of equity, diversity and inclusion as we strive for health equity in our community and being a best place to work for all.
Today, to commemorate the one-year mark of our refreshed mission, vision and values, we want to hear from you about what our ASPIRE values mean to you. Please join me and my colleagues today, Feb. 14, for a special treat and casual conversation about how our values inspire our efforts to care for each other and our community. I hope you can stop by and share your thoughts. I always learn so much from our team members in informal conversations such as these and I look forward to keep learning as we work together to find new ways to live our values here at UVA Health.
Let's have a conversation! Stop by one of these locations today:
Emily Couric Clinical Cancer Center (lobby) | 8:00 – 10:00 a.m. and 11:30 a.m. – 1:30 p.m.
West Complex (lobby) | 8:00 – 10:00 a.m. and 11:30 a.m. – 1:30 p.m.
University Hospital Cafeteria | 8:00 – 10:00 a.m., 11:30 a.m. – 1:30 p.m. and 6:00 – 8:00 p.m.
Orthopedic Center Ivy Road (lobby) | 11:30 a.m. – 1:00 p.m.
Battle Building (lobby) | 11:30 a.m. – 1:30 p.m.
While we hope to see you today, you can also participate in the conversation by posting to the mission, vision and values boards in central locations across the health system at any time or sharing your thoughts on our interactive virtual kudoboard that will be available through the end of February. Thank you so much for your commitment, candor and constructive ideas to help make UVA Health the best it can be for our patients, community and for each other!
Take care and be well,
Wendy