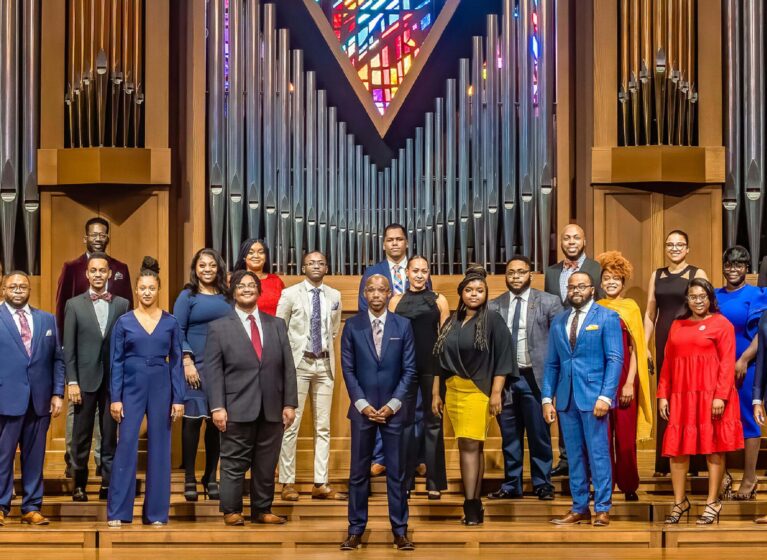 Black History Month kicks off in February, offering a wide array of opportunities for celebration and engagement in activities aimed at cultivating a sense of hope and capacity to build a more inclusive community. UVA Health's commitment to inclusivity and diversity goes beyond mere words and into action — to honor the contributions of our African American community, reflect on the strides that we've made and look foward to what still needs to be done. UVA ushered in a month of celebration and reflection by welcoming the Jason Max Ferdinand Singers to perform at Old Cabell Hall this past Sunday.
The moving performance by the singing group was made particularly special after their guest performance this weekend on Saturday Night Live, where the group dedicated the mashup song "Human Heart/Fix You" to our community's healing. Both the Saturday and Sunday night performances gifted our community with a beautiful moment of healing and remembrance of those we've lost. The ensemble's performance at Cabell Hall is just one of the many ways we're honoring Black History Month this year. We will also highlight our shared commitment throughout this month through a host of events for team member engagement.
There are a variety of events to choose from during Black History Month at UVA Health, like the weekly book reading of "Rest is Resistance: A Manifesto" (free copies available at the Claude Moore Health Sciences Library), the keynote presentation, Massive Resilience: Cultivating Equity and Justice for Seven Generations, presented by guest speaker, Dr. Ram Bhagat on Feb. 8 and a UVA Physicians Group (UPG) sponsored Lunch and Learn featuring Leslie Scott-Jones from the Jefferson School African American Heritage center on Feb. 15. These events offer us an avenue to come together to learn, to understand and to contribute to improving diversity, equity and inclusion across the health system.
We share a commitment at UVA Health "to cultivate an inclusive community that embraces, values and celebrates diversity and creates an engaging, equitable environment." In our observance of Black History Month, we hope to provide a space for celebration and engagement that advances our vision to be the best place to work — while transforming patient care, research, education and collaboration with the diverse communities we serve.
Take care and be well,
Wendy