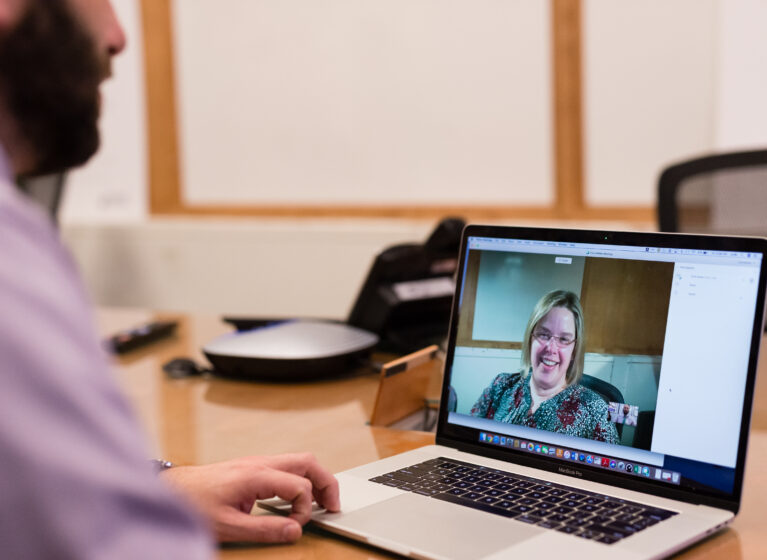 The healthcare industry, including UVA Health, has undergone a tremendous amount of change during the last several years, bringing both challenges and opportunities to our work environment. Thanks to your continued efforts, UVA Health has shown incredible resilience and adaptability, constantly reevaluating our approach to meet the growing demand for healthcare services.
One group that stands out as a champion of change is our amazing telemedicine team in the UVA Karen S. Rheuban Center for Telehealth. Through their dedication and innovative mindset, they have not only responded to the COVID-19 crisis but also continue to reshape the future of healthcare in rural areas.
The telemedicine team's commitment to making a positive change is evident in the number of patient appointments and the growing demand for their services. They serve our patients through ambulatory telemedicine visits, inpatient consults, daily ICU rounds at UVA Culpeper Medical Center and a range of other telemedicine services. Despite the high demand, the Center for Telehealth has achieved a 94.5 percent patient satisfaction rate!
On top of increased quality patient care, the team has been recognized with numerous achievements. Most recently, they earned the AAMC's Telehealth Equity Catalyst (TEC) Award, supporting UVA Health's efforts to improve health and wellness outcomes in rural southern Albemarle County. The UVA Karen S. Rheuban Center for Telehealth is also partnering with several healthcare organizations to form the Virginia Consortium to Advance Healthcare in Appalachia. Furthermore, in February, we announced a new program, backed by a $1.5 million grant from the federal Health Resources and Services Administration to expand healthcare services for stroke patients. As part of that program, ambulances in the counties are being outfitted with UVA Health's iTREAT mobile telemedicine system, whose developers include, you guessed it, members of our telemedicine team.
These remarkable achievements are just a glimpse of how our telemedicine team, working side by side with our dedicated clinicians, is driving positive change and improving long-term patient outcomes in rural communities. Their advocacy in public policy has led to sustainable transformations in care delivery models. When they reached out to share the fantastic news about the TEC award, they couldn't contain their excitement about the next big initiatives they are already working on. While there are many deserving team members, I want to specifically acknowledge the exceptional leadership of Nikki Reyer Facteau, the Director of Telemedicine, and Karen Rheuban, MD, the Medical Director of the Office of Telemedicine. Their passion and visionary guidance have been instrumental in our success and inspire us as we strive for continued growth and better patient outcomes at UVA Health.
Together, let's champion change, adapt to new challenges and keep pushing the boundaries of what is possible in healthcare. Our telemedicine team has shown us that with adaptability and an eye for innovation, we can overcome any obstacle and make a lasting difference in the lives of our patients.
Share your experiences or ideas for championing change with me through the Be Heard Suggestion Box.
Take care and be well,
Wendy