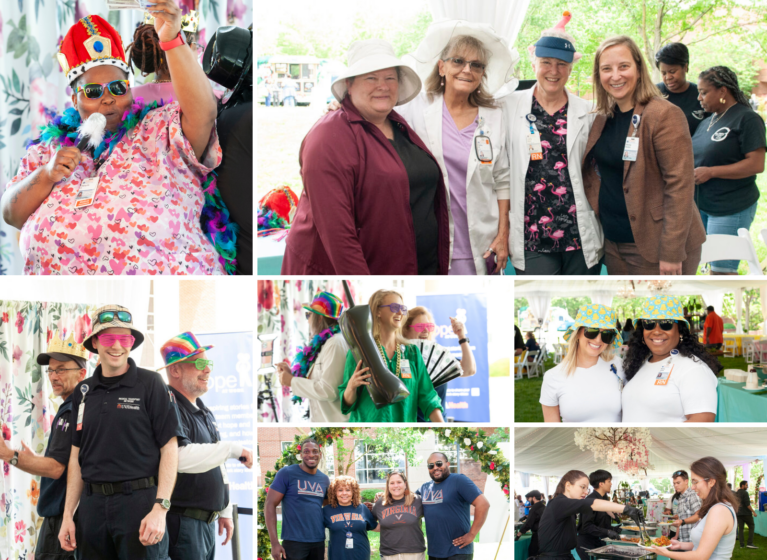 Between Nurse's Spirit Week and the UVA Health Week photo booth, one thing is clear; our team members know how to have fun!
It brings such a smile to my face to see so many of you coming together to take part in last week's celebrations. We have an incredible privilege and do a great job caring for our patients. But during UVA Health Week, it was nice to see many of you taking a break to celebrate all that we've accomplished together and the beautiful community of which we're all a part. This year's theme aligned with UVA Health's 10-year Strategic Plan: "One Future Together|Health and Hope for All." It reflects a wider strategic recognition that as we continue to grow, the future of UVA Health lies in working together to prioritize an excellent patient experience across every touchpoint — the moments of direct and indirect patient contact through our services, interactions, and strategic efforts.
As part of UVA Health Week, we launched a series called "Hope at Work" in Connect, to feature our team members and their inspiring stories about how they are creating health and hope for all. To help kick off the fantastic new series, I'd like to highlight a few of the moving stories that you have shared with me over the past few weeks.
Even if we don't always see it, every touchpoint matters in providing a great patient experience. Stories of hope at work like the ones I've mentioned give us an opportunity to celebrate these moments and reinforce the power each of us has in making an impact. Thank you for working together to make every touchpoint count.
Experience of Care: UVA Health Team Members Organize Beautiful Honor Walk

On the evening of May 11, a remarkable act of compassion and collaboration took place at UVA Health. The Pediatric Intensive Care Unit (PICU) joined forces with various UVA Health team members to organize an Honor Walk — a ceremony held to honor a patient whose organs will be donated as they are transported to surgery — for a teenage trauma patient. Family and friends attending the vigil were welcomed by representatives and offered soothing music, therapy dogs and privacy as they waited. During the Honor Walk, family, friends and UVA staff lined the corridor to pay their respects. Bush Bell, MBA, Patient Experience Officer; Vickie Marsh, Manager of Support Services; Amy Schmidt-Morris, MHA, Senior Advisor - Special Projects; Security; LifeNet and Children's Hospital leadership all played crucial roles in this benevolent act. The outpouring of resources from our team deeply moved our LifeNet colleagues, and the donor family expressed their immense gratitude. Honoring lives in this manner is a precious gift in our profession and a beautiful touchpoint in the experience of patient care.
Work as one UVA Health Team: "The NICU team treated my daughter, my husband, and I as if we were one of their own."

Kayla Paige, an access associate senior at UVA Health's Northridge Outpatient Adult Psychiatry, shared a heartwarming story about her daughter's NICU journey at UVA Health. Despite the challenges, our dedicated staff's care and compassion turned Kayla's experience into a story of hope and triumph. From the moment Kayla and her husband arrived at the NICU, they were embraced by the nurses who treated them like family, providing constant support and information. Our providers went above and beyond, conducting numerous tests, thorough imaging and providing round-the-clock care to ensure the best treatment for her daughter. Today, Kayla's daughter is a healthy two-year-old, and her family is immensely grateful for the exceptional care they received from the NICU team. This inspiring story highlights that while one bad moment can ruin a patient's experience, it sometimes takes a collective effort to create a great one. It took working as one UVA Health Team across every touchpoint to get Kayla's daughter home healthy and safely while minimizing the fear and pain that can occur in a NICU.
Value-based Care: "I really felt like I was not able to do much for him, yet when it was time for me to leave, he thanked me."

Oftentimes, we will never know the level of impact our efforts have made on our patients. In the face of the challenging times brought on by the COVID-19 epidemic, Amy McNabb, a Phase 1 Cardiac Rehab and Outreach RN Clin 2, had a moment that has stuck with her to this day. During a period in the pandemic when patients were not allowed visitors, Amy encountered a patient burdened with fear and grief. Separated from his family and feeling alone, Amy offered her presence and a listening ear. When it was time for Amy to leave and the patient thanked her, she noticed the patient's improved expression. I would wager that the patient still thinks about the nurse who stopped to listen to this day. Amy's story embodies the power of value-based care and reminds us that small acts of kindness are touchpoints that can bring hope and solace in the darkest of times — even if we don't know it.
The "Hope at Work" series will continue in Connect and you can submit your story for consideration through this interest form. If you'd like to share your thoughts with me on how we can achieve "One Future Together | Health and Hope for All," you can also message me directly through the Be Heard Suggestion Box.
Take care and be well,
Wendy