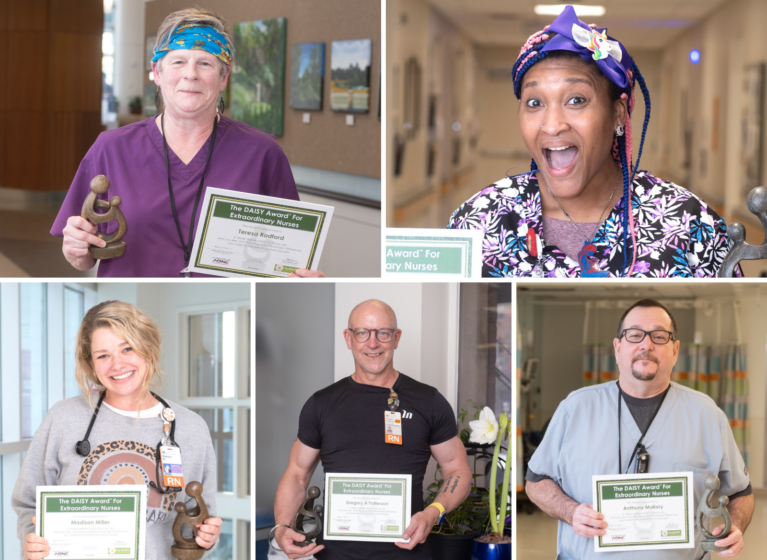 As we celebrate our amazing nurses this week, I can't think of a better time than National Nurses Week to remind everyone of the DAISY Awards, an incredible honor reserved for the most big-hearted and passionate nurses in healthcare. At UVA Health and nationwide, this time-honored tradition recognizes nurses who go above and beyond to provide compassionate care to patients and their families. It's inspiring to see the incredible good that we are capable of at UVA Health while transforming health and inspiring hope for all Virginians and beyond.
It may surprise you to learn that DAISY stands for "Diseases Attacking the Immune System," and stems from J. Patrick Barnes, who died at 33 of an auto-immune disease. The Barnes family was moved by the skill, care and compassion of the nurses who cared for Patrick. They established the DAISY Award to provide a way for nurses nationwide to be recognized for their exceptional gifts of care. The physical award is a "Healer's Touch" sculpture that symbolizes the special relationship between a nurse and their patient and is hand-carved by the Shona people of Zimbabwe.
At UVA Health, our Nursing Professional Governance Organization (NPGO) honors two nurses each month with this distinguished award. Each recipient is surprised with a celebration in their unit where our DAISY Committee Chair and nursing leadership present them with their award.
Since January of this year, eight amazing nurses have received a DAISY award, each for their own unique and equally extraordinary impact on the lives of our patients and their families.
January 2023:
February 2023:
March 2023:
Chelle Adewale-Yusuf, RN Clinician 2, Mother/Baby
Jay S Ardron, RN MC Pool, Staffing Resource Office
April 2023
Lindsay Greiling, RN UB Pool, 3 West
Cary Bettinger, RN Clinician 3, OPSC Pre/Post
The story behind each recipient's nomination is eventually featured in Connect and you can read Teresa, Greg, Anthony, Madison and Chelle's now. These stories are a beautiful reminder of the "why" behind our work in healthcare and I'd strongly encourage you to read them when you get the chance.
Anyone who has had an extraordinary first-hand experience with one of our nurses can submit a DAISY Award nomination — including team members, patients and their family members, and guests at the medical center. If you know a nurse who deserves to be recognized for their exceptional care, you can learn more about how to nominate them for a DAISY Award here. Let's continue to celebrate and honor the incredible nurses who make a difference in the lives of so many.
Take care and be well,
Wendy
PS — Next week, I'll share a few of your stories of transforming health and inspiring hope for all Virginians and beyond as part of our new Hope at Work series! Submit your story here.