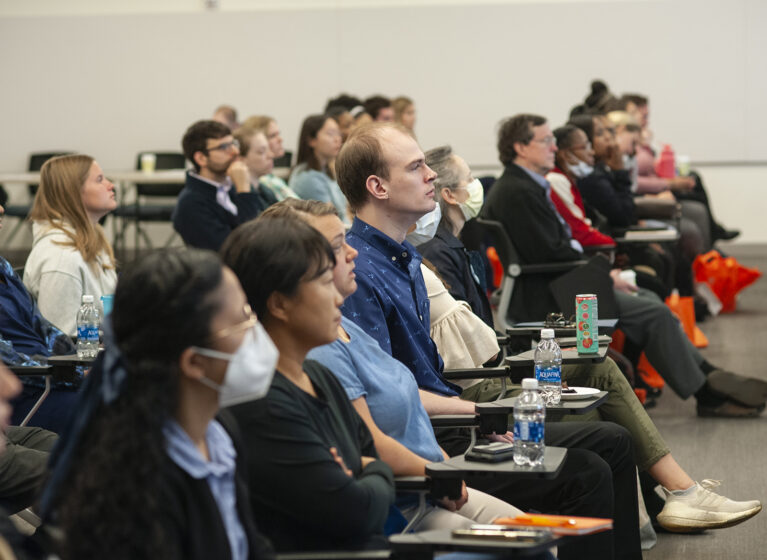 June is a month of celebration for healthcare recruiters nationwide, as, last week, we recognized their invaluable contributions on National Healthcare Recruiter Recognition Day. And at UVA Health, we have a lot to celebrate lately in the realm of team member recruitment!
A recent orientation day, held on Tuesday, May 30, marked a milestone for UVA Health. With the tremendous support of our Human Resources department and an inspiring address from Dr. Reid Adams, our Chief Medical Officer, UVA Health welcomed a record-setting 325 team members — including external travelers and transfers. To date, we have onboarded an impressive 1,439 new team members to fill critical roles across our organization. We have also hired 713 travelers in 2023 to help support our team members across many areas to accomplish our mission of providing excellent patient care 24 hours a day, seven days a week.
I wanted to share a few thoughts I had about how we can celebrate this considerable growth while building off our recent productive recruiting efforts:
Acknowledging the Efforts: I want to express my sincere gratitude to every individual involved in the May 30 orientation. The success of this day was largely a result of the collective efforts of nine departments. If you're curious about the details and behind-the-scenes work that made this possible, I encourage you to check out a recent post in Connect, where we delve deeper into their incredible contributions.
Welcoming the New Members: As we celebrate the growth of our team, it is paramount that make our new members feel welcome. Each of us can play a significant role in making them feel supported, valued and at home within our UVA Health community. So, let's embrace this opportunity to offer our assistance, wisdom and encouragement to new team members in our departments and throughout the medical center.
Small Gestures, Big Impact: Even a simple act of kindness can make a lasting impression on someone who might be feeling a bit lost or overwhelmed in their new environment. Consider offering to walk with a new team member who seems unsure of where to go or providing guidance when they have questions. These small gestures of camaraderie can go a long way in helping our newest members feel accepted and integrated into our community.
Living Our ASPIRE Values: As our new members settle in, it is essential that we continue to embody the core values that define UVA Health. Our ASPIRE values — accountability, stewardship, professionalism, respect and equity — guide us in our interactions with both patients and colleagues. While we prioritize the well-being and care of our patients, we must also care for, empower and support our fellow team members. By embracing these values, we create a nurturing environment where everyone can thrive.
We have a lot to celebrate about the recent significant growth at UVA Health. The successful onboarding of 325 team members on May 30 demonstrates the dedication and collaborative spirit that defines us as an institution. Let's continue that momentum by extending a warm welcome, offering support and embodying our ASPIRE values as we strive for excellence in providing exceptional healthcare. Here's to our growing team and the bright future ahead for UVA Health!
Take care and be well,
Wendy