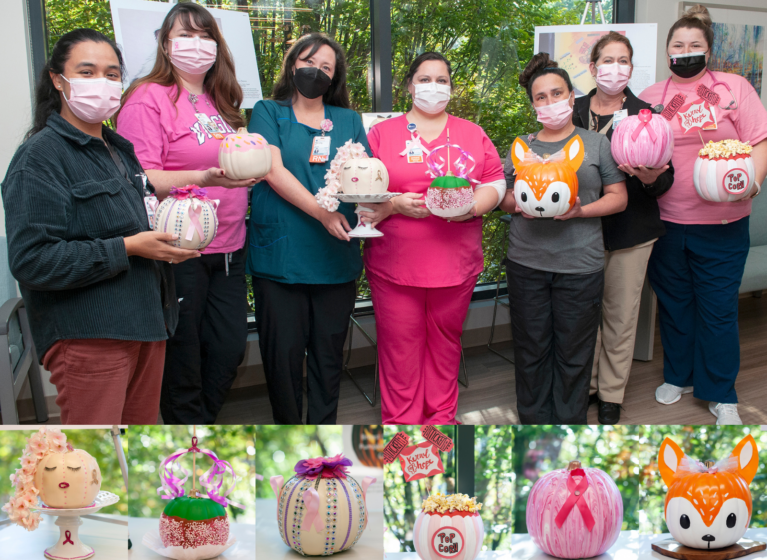 You might have caught a glimpse of the Breast Care Center Team's pumpkin decorating contest on Connect and social media recently, but have you had the chance to get to know the fantastic team behind the contest? Let's take a moment to shine a spotlight on a team that embodies UVA Health's vision of creating the best environment for our patients and team members.
Breast cancer is one of the most frequently diagnosed cancers, affecting 1 in 8 women, and is the second most fatal cancer in women (American Cancer Society). Although it's rarer, men can also be diagnosed with breast cancer (1 in 833). Early detection and effective treatment are paramount, but, more than that, quality of care provided plays a vital role in helping patients cope with the immense stress of such a diagnosis. In October 2020, we opened the doors of the UVA Breast Care Center to provide our breast care patients a one-stop destination for the majority of their care.
Since opening the clinic, our oncology clinical volume has surged by 16%, and infusion volume has grown by 9%. Additionally, the team's Breast Screening mammography volume has consistently grown by 6% annually for the past two years. To top it all off, one of their exceptional team members, Dr. Carrie Rochman, was honored with the "Woman of the Month" award for October – a testament to the incredible work being done at the Breast Care Center.
Accolades don't stop there. The UVA Breast Care Center is accredited by the National Accreditation Program for Breast Centers (NAPBC) and the American College of Radiology has recognized them as a Breast Imaging Center of Excellence. And let's not forget the outstanding recognition they received for their Patient Experience in FY2023 and the Breast Surgical Oncology team's well-deserved recognition as FY24 Q1 Top Performer!
Beyond excellent care, the UVA Breast Care Center team goes the extra mile to create a warm and welcoming environment for patients and team members. They've established a Sunshine Committee that organizes fun activities and celebrations, such as the pumpkin decorating contest, which helps build a friendly patient environment, strengthen team bonds and raise awareness about Breast Cancer.
The Breast Care Center team's commitment to patient care and being a best place to work is a fantastic example of the high standards we strive to uphold at the medical center. Their efforts in the fight against cancer make a real difference in the lives of our patients. Let's wrap up Breast Cancer Awareness Month by celebrating this exceptional team's hard work to make UVA Health an accessible place for all.
Take care and be well,
Wendy