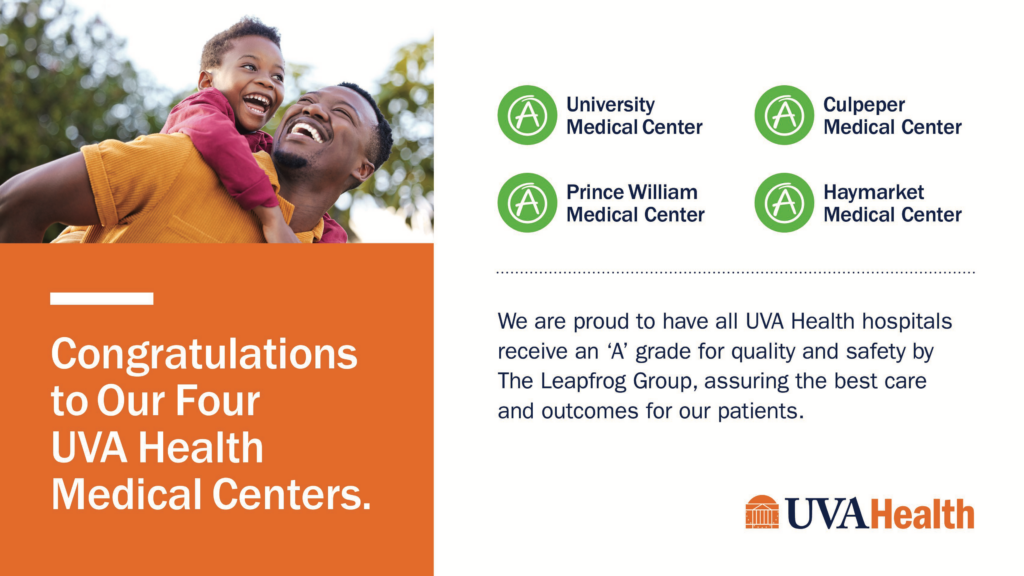 Thanks to your unwavering dedication to patient safety, all four of our medical centers at UVA Health have achieved an 'A' Hospital Safety Grade from The Leapfrog Group. This is an extraordinary accomplishment!
The 'A' Hospital Safety Grade represents our commitment to providing our patients with the safest and highest quality of care. It's not just a letter; it symbolizes our relentless pursuit of excellence. This grade is based on 30+ national performance measures scrutinizing errors, injuries, accidents, infections, and the systems we have in place to prevent harm. Receiving an 'A' puts us among the elite healthcare providers setting the gold standard in care delivery.
As a large academic medical center, we are held to exceptionally high standards, and earning this 'A' rating is remarkable. It shows that our collective efforts and putting superior patient outcomes at the core of our strategic plan are indeed paying off.
To celebrate this momentous achievement, we have a special treat planned across our four medical centers. Keep an eye out for more details. Within the UVA Health University Medical Center, you can mark your calendars for a special celebration later this week, where we'll serve some of your favorite 'A' foods, including Apple pie and Apple cider. It's our way of saying 'thank you' for everything you do for our patients.
Here are the details for the celebration at various locations, hosted by our Rewards and Recognition team:
Thursday, November 9
University Cafeteria East: 11:00 AM – 2:00 PM; 6:00 – 8:00 PM; and 11:00 PM – 1:00 AM
Fontaine Morrison Café: 11:00 AM – 1:00 PM
Orthopedics Morrison Café: 11:00 AM – 1:00 PM
Offsite Locations: The Rewards and Recognition team will contact offsite locations on how to pick up their treats.
We hope you can swing by and pick up your treat to commemorate this milestone!
In the meantime, please accept my heartfelt thanks for your outstanding contributions to UVA Health. Each and every one of you has played a pivotal role in this success. You are the heart and soul of our organization, and your dedication truly makes a profound difference in the lives of the patients and families we serve.
Take care and be well,
Wendy