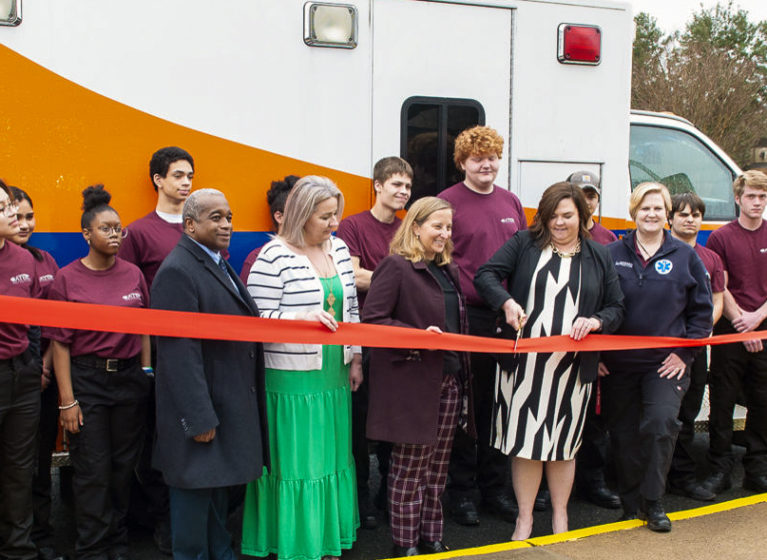 As a pillar of our community, UVA Health is called to be a good steward of our resources and share them with our neighbors when we can make a meaningful difference. That was top of mind for me a few months ago when I walked around my neighborhood and passed the Charlottesville-Albemarle Technical Education Center, a regional vocational school that helps high school students and adults obtain job training.
After exploring the idea with several teams both here at UVA Health and CATEC, we agreed that, of its many training programs, CATEC's Emergency Medical Technician Program was one where our resources could make the most meaningful difference. Working with UVA Health's Transportation and Distribution team, we agreed that donating one of our retired ambulances would help EMT students simulate hands-on learning experiences, from learning to load patients into and out of the vehicle to providing care in tight spaces. So, last week, UVA Health gifted CATEC with an ambulance, and the EMT students I met at a ceremony commemorating the donation were thrilled.
Supporting EMT training benefits our entire community. For example, investing in local EMTs means a higher level of emergency care in our area. Whether they come to work for UVA Health once they're certified or work for a neighboring health system, there's more bandwidth to provide emergency care in ambulances and hospitals around our region. Additionally, we've begun training EMTs in our Emergency Department through our Life Support Learning Center to better care for more patients. What originally started as an innovation to support our teams through staffing shortages has evolved into an essential addition to the bedside. So much so that we're now offering paid on-the-job training to become an EMT, with no healthcare experience necessary, through the Earn While You Learn program. Immediately upon completion of the program, participants transition into a permanent role with a one-year commitment.
So, thank you to all our EMTs, and a special thank you to CATEC for helping train the next generation of healthcare professionals. We're glad to partner with you!
Take care and be well!
Wendy
PS— Know someone interested in becoming an EMT at UVA Health? They can express their interest using this form. Also, if you came through a CATEC program before joining UVA Health, I'd love to hear your story. Don't hesitate to send me an email here to share!