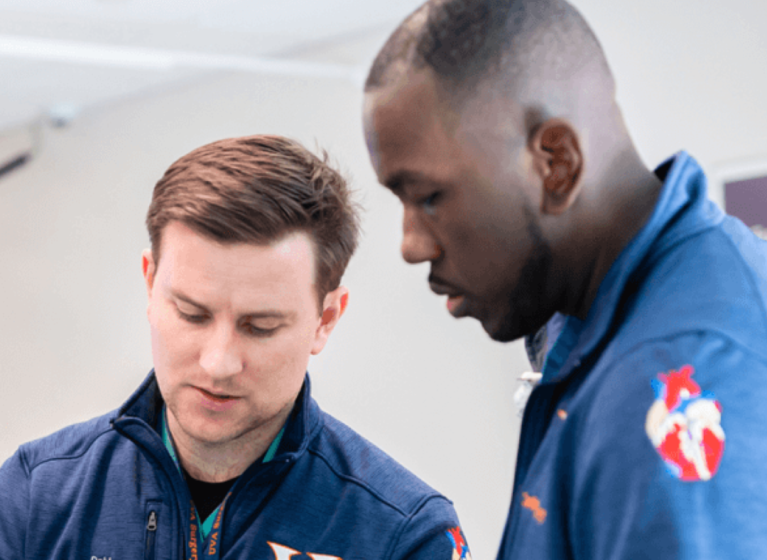 In February's blog post, I introduced the Earn While You Learn program. The program makes it easier than ever to access successful and fulfilling careers in healthcare. Plus, paid, on-the-job training is included, and no degree or experience is necessary to get started.
Since then, we have onboarded the first class of new pharmacy technicians who used the program to jumpstart their careers in healthcare at UVA Health.
We are excited to announce, we are now recruiting for nursing assistant trainees to become certified nursing assistants (CNAs) and EMTs with start dates as early as June. Learn more on the Earn While You Learn website, and express interest by filling out this form.
Beth Mehring, RN, has taken on the role of coordinating the Earn While You Learn program. If you or anyone you know needs help applying for the program, you can reach out to her directly at [email protected].
Beth has been at UVA Health for 35 years, and she has walked the path that many Earn While You Learn participants are embarking on. She started her career as a nurse at Piedmont Virginia Community College (PVCC), and she and her sister were the first in their family to receive any college education. During Beth's time at UVA, she has earned her bachelor's and master's degrees, and she wants everyone to know how attainable it is. She hopes the Earn While You Learn program helps individuals realize their potential.
We have been able to make this program a success thanks to the support and partnership from our internal teams and educational partners in the community, like PVCC and the Charlottesville-Albemarle Technical Education Center (CATEC).
PVCC has several programs and grants in place to help prospective program participants with transportation, childcare, work attire, and more. The partnership with them will help open doors wider than they have ever been before.
It has been exciting for me to see the possibilities of this program for both UVA and the community at large: enabling more patients to be cared for and putting careers in healthcare within reach for community members.
In the upcoming months, programs will be opening up for phlebotomy and clinical medical assistant roles. Stay tuned and check the website frequently because new roles are being added regularly.
If the Earn While You Learn program sounds like a good fit for you, please fill out the form today. And, if you know someone who might be interested, please send them our way!
Take care and be well,
Wendy