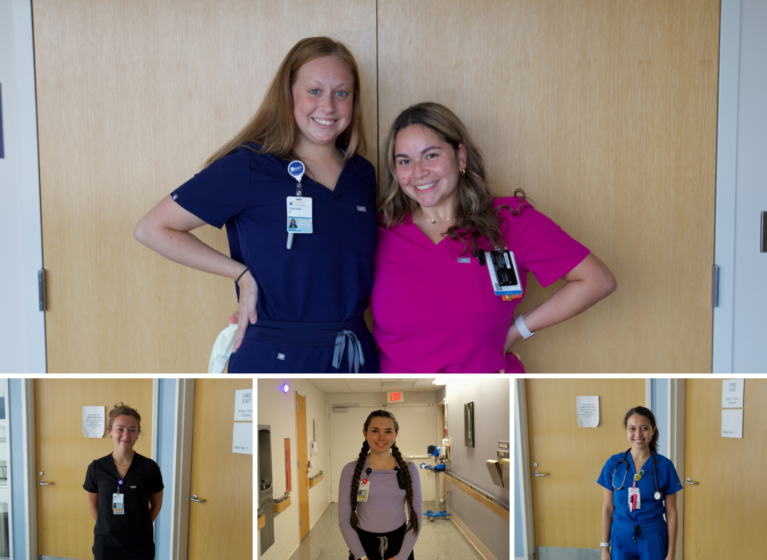 In February, I mentioned that we were expanding the Nurse Externship Program to provide current nursing students with invaluable on-the-job experience while offering essential support to our dedicated UVA Health teams. I'm thrilled to share we welcomed 84 nurse externs in May and June from over 30 prestigious nursing schools, including UVA, and by the overwhelmingly positive feedback, I'd say it's been going great so far!
The Nurse Externship Program is part of our commitment to nurturing the next generation of healthcare professionals for long-term success while providing much needed and immediate support to our patients and our team members. The program equips nursing students with clinical experience through an 8 to 12-week, full-time, supervised paid externship. It provides well-rounded exposure to 25 diverse areas, including Acute Care, Intermediate Medical Unit (IMU), Intensive Care Unit (ICU), Post-Anesthesia Care Unit (PACU), Operating Room (OR) and outpatient clinics.
To qualify for the program, applicants must be entering their final year of nursing school, graduating no later than the following June after the externship. The program is tailored to students who are genuinely passionate about nursing and aspire to make a positive impact on patients' lives.
The program's primary goal is to bridge the gap between nursing education and practice. Our nurse externs perform tasks under the guidance of our experienced registered nurses (RNs) such as taking vital signs, providing basic patient care and assisting with procedures. While the students don't administer medications, they actively support the day-to-day activities that contribute to the well-being of our patients. This real-world experience builds their confidence and competence, as well as teamwork and interdisciplinary collaboration skills. They also participate in weekly educational opportunities and complete training to build the necessary skills for their careers in healthcare.
Beyond benefiting nursing students and providing support to our care teams, the program serves UVA Health in the long term. It helps us identify and train potential future team members, ensuring a strong pipeline of capable Patient Care Technicians (PCTs) and RNs. This strategic approach boosts our recruitment and retention rates, fostering the growth of highly skilled and dedicated healthcare professionals.
We don't just consider the Summer Nurse Externship Program a training ground for nursing students; it's an investment in the future of healthcare at UVA Health. These young individuals bring fresh perspectives, enthusiasm and dedication to their roles, making our medical center an even better place for patients and team members alike.
Thank you to everyone involved in making this program a success. From our dedicated RNs and team members who mentor the externs to the students who embrace this opportunity, together we are building a stronger and more compassionate healthcare community.
I wish you all a fantastic end of summer and we look forward to the incredible contributions our nurse externs will make as they finish up their programs and embark on the next step of their healthcare journeys.
Take care and be well,
Wendy