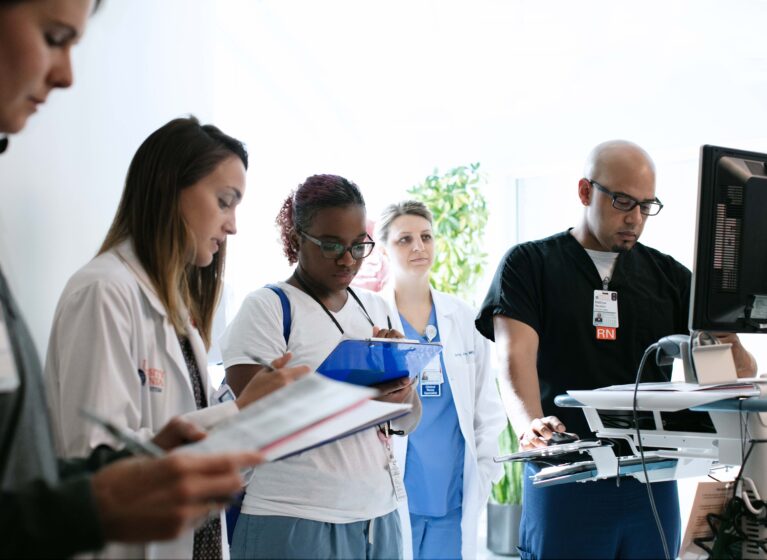 Providing world-class patient care is a key tenet of UVA Health's mission. This mission is possible because of your incredible talents and expertise — you are the strength of UVA Health.
One pillar of our strategic plan is strengthening our foundation. We are working as one UVA Health team to help you do what you do best: deliver amazing care to our patients. We are excited to share some new and enhanced initiatives to support you and your team members.
The great news is that team member attrition has been moving in a positive direction, thanks in part, to our focus on fostering belonging for all to make UVA Health the best place to work. Beyond our retention efforts, we are adding fantastic new on-the-job learning programs to bring you assistance now — while preparing the next generation of healthcare workers.
The Earn While You Learn (EWYL) program continues to find passionate individuals who are seeking careers in healthcare and want to make a difference in our patients' lives.
We welcomed 23 new Certified Nurse Aides this month, adding to the 13 CNAs who joined our organization in December through EWYL. I'm gratified to see growing interest in this program and appreciate the positive impact our new CNAs are having in supporting our nurses and caring for our patients.
Additionally, we recently expanded the EWYL program to include Sterile Processing Technician roles — meaning UVA Health will bring in new talent, starting in late February, to begin training to become Sterile Processing Technicians who ensure medical/surgical instruments are properly inspected, cleaned, and sterilized for use across the medical center and clinics.
The sterile processing department in a hospital is commonly referenced as the "heartbeat" of a hospital. Please pass along this opportunity to join an amazing team that is making so much of our patient care possible.
Even more positive news, this summer we're expanding the Nurse Extern program, which will allow currently enrolled student nurses to gain pivotal on-the-job experience while supporting our teams. This revamped nursing externship program not only provides nursing students with valuable experience but also aims to create a pipeline of capable patient care technicians (PCTs) and registered nurses (RNs) at UVA Health. Programs like these, in turn, set UVA Health up for long-term success in recruiting skilled individuals to our organization.
Our strategic plan will continue to guide us in the coming years as we find new ways to strengthen our foundation, which ultimately helps us provide the best care possible to our patients. Thank you for being a part of the process; I'd love to hear your ideas about how we can bolster our workforce through the Be Heard Suggestion Box.
Take care and be well,
Wendy