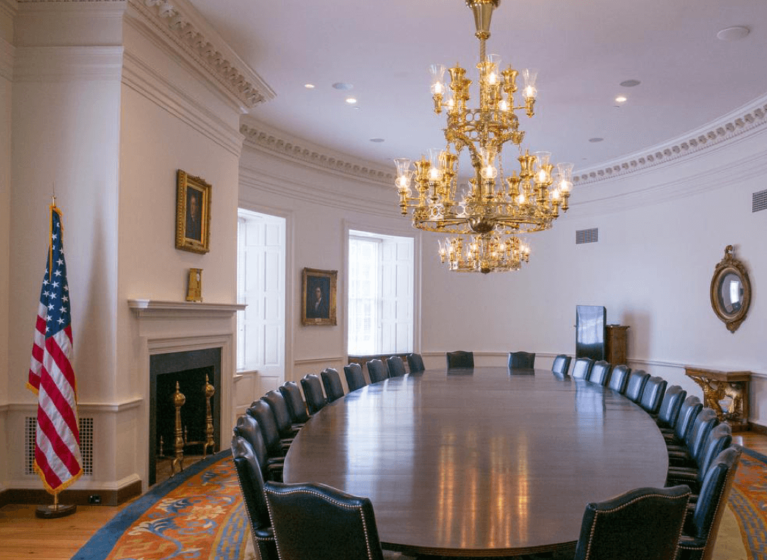 Key Takeaways From This Post:
Four times a year, I get to report on your efforts to the board that oversees UVA Health.
Going forward, I plan to share my report here on the blog so you can see how I'm sharing your excellent work with our board members.
This quarter, my presentation topics were: People, Quality and Safety, Patient Experience, and our Transitional Care Hospital.
---
One of the best parts of my job is sharing with our community the incredible work you, our devoted UVA Health Medical Center team members, do daily to support our patients and mission. Four times a year, I have the privilege of reporting on your efforts to the Health System Board, a committee of the University's Board of Visitors that oversees UVA Health. Below is the written report I discussed with our board members at our meeting earlier this month.
The Medical Center report — and those about UVA Health's other entities, finances, and related presentations — are publicly available before and after each meeting. Still, I plan to share my report on the blog from now on so that you all can see what our board members are reading about your excellent work.
(Links not present in the original report have been added for further reading. For the most up-to-date information, check out the Medical Center Clinical Operations Scorecard, which shows current clinical performance against targets established during the annual planning process. Team members must be logged into the UVA Health network to view.)
People
Min Lee, MBA, MHA, was selected to serve as Chief Operating Officer for UVA Medical Center, effective June 27.
Nursing retention efforts remain a top priority. Nursing staff attrition for the first nine months of FY22 remains below the national average.
Our first International nurse has started at UVA Medical Center through Passport International. Additional nurses are slated to start this summer.
"Earn While you Learn" program launched to include pharmacy technician, emergency medical technician, certified nurse assistant, and certified medical assistant.
Quality and Safety
#1 Hospital in Virginia, Newsweek World's Best Hospital, 2022 Guide.
Daily management system refresh training conducted for more than 200 leaders. Topics focused on interdisciplinary huddles, visual management, escalation, and real-time root cause problem solving.
Patient Safety Risk Rounds initiated as a best practice in the prevention of central line associated blood stream infections (CLABSIs) and Catheter Associated Urinary Tract Infection (CAUTI).
The Stroke Program received recertification as a Comprehensive Stroke Center by The Joint Commission.
Lynchburg, Augusta, and Orange Dialysis Centers received recertification for the End Stage Renal Disease Program by the Virginia Department of Health on behalf of CMS.
Continuum Home Health received recertification as a supplier of Durable Medical Equipment, Prosthetics, Orthotics, and Supplies by CMS.
The Emily Couric Infusion and the Augusta Pharmacies received recertification for services by the Virginia Board of Pharmacy.
Patient Experience
Press Ganey recognized the Emily Couric Hematology and Oncology West Clinic with the Pinnacle Award of Excellence for maintaining the highest levels of standards in patient experience over a three-year timeframe.
Inpatient experience as defined by the overall hospital rating of 9s and 10s for third-quarter FYTD2022 is 77.0% (81st percentile), above FY2021 of 76.2% (71st percentile), and slightly below the target of 77.8%. We noted strong performance in March and were above goal for the month. Efforts around communication and purposeful leader rounding contributed to improved progress.
Outpatient clinic patient experience as defined by the overall question "likelihood of recommending your practice to others" for the third-quarter FYTD2022 reflects a score of 95.5% (73rd percentile). Scores have remained flat and are below target of 96.7% and below FY2021 of 96.3% (86th percentile). The Patient Experience office is partnering with ambulatory leaders to develop targeted strategies for FY23 to boost patient perceptions around caregiver teamwork.
Emergency Department patient experience for third-quarter FYTD2022 is 79.4% (44th percentile), below FY2021 of 81.1% (34th percentile), and below target of 84.6%. Third-quarter results are the highest quarterly scores since January-March 2021. Leadership and workforce stabilization is showing a promising impact on the patient experience.
Transitional Care Hospital
UVA's Transitional Care Hospital (TCH) continues to operate with high efficiency and produce quality outcomes better than targets.
The mortality rate for the year to date is 3.39% compared to the case mix index weighted national benchmark data of 12.15%.
The ventilator weaning rate is 75.7%, which is indicative of quality care when compared to the CMI weighted national average performance benchmark of 57.9%. Central line acquired blood stream infections remain at a rate of 0. Case Mix Index for admitted patients is at an all-time high, indicating that the hospital has treated the most complex and resource-intense patients in its existence.
Staffing of clinical nursing roles is below the desired level to open beds sufficient to meet demand and to meet the forecasted volume projections.
Management has responded by flexing down expenses while remaining committed to care delivery.
The Joint Commission completed a Disease Specific Survey and recertification of Transitional Care Hospital's Respiratory Failure Program, the only program of this kind in the Commonwealth of Virginia.
Take care and be well!
Wendy