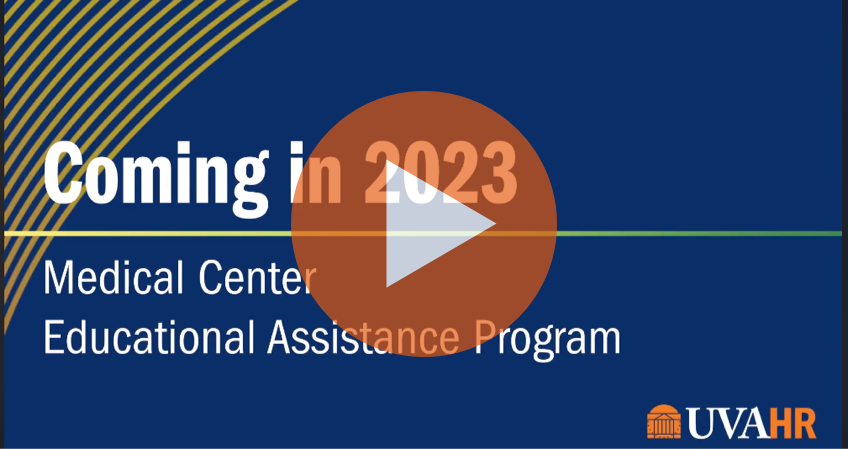 This time of year, there's a lot of focus on gifts. Opening gifts, giving gifts, receiving gifts.
Your education can be an incredible gift — and one that may come with a hefty price tag! Earlier this year UVA Health announced a new tuition reimbursement program for our team members at the UVA Medical Center. This is just one way we are able to show our support toward your career and personal journey. It's also worth mentioning that your honest feedback was the biggest motivator in improving the program — and that's what Vision and Voice is all about!
Since the announcement, we've put together a helpful video, a detailed website, and the quick facts below highlighting the new benefits to help you navigate the changes and more importantly, to help you get the education you desire and financial assistance you deserve.
In 2023, all benefits-eligible team members will have equal access to up to $5,250 per calendar year, tax-free, for the education benefit. Currently, only team members with positions defined as "hard to fill" receive this amount, and all others receive $2,000.
Team members can receive money for education assistance upfront or as a reimbursement. Currently, this benefit is provided as a reimbursement only.
Program enrollment and payroll procedures will move to Workday in 2023. Currently, interested team members apply and manage their requests via a standalone system (PeopleSoft Financials).
The annual Nursing Scholarship will be included in the IRS pre-tax limit of $5,250 with the implementation of Medical Center education benefits in Workday. Currently, the Nursing Scholarship is taxable.
We hope the new education benefit is a useful and welcomed gift as we close out 2022 and look ahead to a bright 2023 together. This is just one more way of showing our commitment to making UVA Health the best place to work for all our team members.
I hope you're having a wonderful, safe, and restorative holiday season!
Take care and be well,
Wendy